Introduction
Digital marketing is more than just a buzzword; it's the lifeblood of a thriving business in today's digital age. For businesses in Virginia, mastering the art of digital marketing can mean the difference between mediocrity and success. In this article, we delve into the secrets of effective digital marketing in Virginia, helping you unlock its potential for your business. Whether you're a nonprofit, an association, or a small business looking to elevate your brand and engage your audience, this guide is designed for you. So, let's dive into the exciting world of digital marketing in Virginia and explore how you can leverage it to your advantage.
Understanding Digital Marketing in Virginia
Virginia, affectionately known as the "Old Dominion," is no stranger to the digital age. While the state holds onto its rich history and traditions, it readily embraces modern technology, making it a thriving hub for digital marketing.
The Importance of Digital Marketing for Small Businesses in Virginia
In the current digital age, a robust online presence is not just an option, but a necessity. This is particularly true for small businesses in Virginia, where competition can be fierce across various industries. Inbound marketing, a key aspect of digital marketing, offers a cost-effective and efficient way for these businesses to draw potential customers to their brands.
Inbound marketing strategies allow businesses to reach a wider audience without breaking the bank. Unlike traditional advertising methods like TV ads or billboards, which can be costly and may not necessarily reach the target audience, inbound marketing uses digital channels like search engines, social media, and content marketing. These channels are not only more affordable but can be tailored to reach the ideal audience of a business.
Moreover, inbound marketing focuses on providing valuable content that attracts potential customers to a business. By offering informative and engaging content, a business can position itself as an industry leader and a reliable source of information. This not only helps increase online visibility but also builds trust and credibility with the audience.
One of the most significant benefits of inbound marketing is the ability to interact directly with the audience, fostering a more personal connection. This engagement helps businesses understand their customers better, enabling them to tailor their products or services to the customers' needs and preferences.
The Current Digital Marketing Landscape in Virginia
Virginia's strategic East Coast location serves important domestic and international markets. It's home to the world's largest data center market, the third-largest East Coast port, and a diverse manufacturing base. The state also boasts an emerging unmanned systems industry and the country's highest concentration of tech workers.
These factors, coupled with the state's readiness to welcome businesses that want to relocate or expand, make Virginia a vibrant and dynamic environment for digital marketing. When it comes to talent, Virginia's colleges and universities, such as the University of Virginia and Virginia Polytechnic Institute, offer degree programs related to digital marketing, ensuring a steady flow of well-educated and skilled professionals.
The state's digital marketing landscape is also shaped by the presence of hundreds of agencies, each bringing a unique set of skills and expertise to the table. From SEO specialists to social media gurus, these agencies provide a wide range of services designed to help businesses reach their marketing goals.
The competitive salary in Virginia also justifies the hourly rate of marketing agencies. A digital marketing specialist in Virginia earns at least $53,000 annually, while a digital marketing manager makes an average of $71,820 per year, making the state attractive for top-notch marketing talent.
All these factors contribute to the rich and evolving digital marketing landscape in Virginia, making it a perfect place for small businesses to thrive and grow.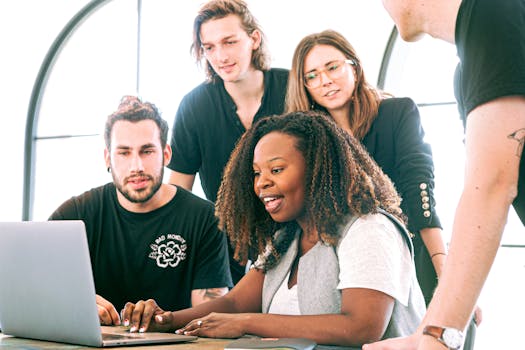 Top Digital Marketing Strategies for Virginia Businesses
Discovering the key to unlock success in the digital marketing world in Virginia requires a deep dive into the most effective strategies. From SEO to social media and email marketing, businesses in Virginia can leverage these techniques to enhance their online presence and customer engagement.
SEO and Local SEO
Navigating the digital landscape begins with mastering Search Engine Optimization (SEO) and Local SEO. SEO involves optimizing your business website to rank higher in search engine results pages (SERPs), leading to increased visibility and traffic. Remember, it's not just about stuffing your content with keywords; you need to craft relevant titles and optimize your metadata based on your target audience. For businesses operating on a local level in Virginia, Local SEO is crucial. This involves optimizing your online presence to attract more business from relevant local searches, which can significantly boost foot traffic for brick-and-mortar enterprises.
Social Media Marketing
In today's digital age, having a strong social media presence is non-negotiable. But it's more than just creating a profile on different platforms; it's about being active, engaging with your audience, and providing valuable content. Social media platforms in Virginia offer a treasure trove of opportunities for businesses to build brand awareness, boost engagement, and drive traffic to their websites.
Email Marketing
One of the most cost-effective ways to stay connected with your customers is through email marketing. Regular newsletters can keep your audience informed about new products, special sales, or valuable content. By curating an email list and sending periodic newsletters, you can keep your customers engaged and inspire them to make more purchases.
Content Marketing
Content marketing is the heart of inbound marketing. By regularly publishing valuable content, like blog posts, podcasts, or videos, you can introduce customers to your brand and keep them engaged. This strategy can help attract new customers and retain existing ones by establishing your brand as a trusted expert in your field.
Video Marketing
With the rise in popularity of platforms like YouTube, video marketing has become an essential part of a comprehensive digital marketing strategy. Engaging video content can reach a wider audience and provide a more immersive experience, making your brand more memorable and relatable.
Pay-Per-Click Advertising
Pay-Per-Click (PPC) advertising offers a direct pathway to increase your business's online visibility. It involves running ads for your business and paying a fee each time one of your ads is clicked. With proper keyword research and effective ad design, PPC can drive a significant amount of traffic to your website in a short amount of time.
These digital marketing strategies, when implemented effectively, can significantly boost your business's online presence and help you attract more customers in Virginia's competitive digital landscape. Remember, the key is understanding your audience, providing valuable content, and being consistent in your efforts.
How to Choose the Right Digital Marketing Agency in Virginia
Navigating the digital marketing landscape can be overwhelming, especially with the plethora of agencies at your disposal. The secret to unlocking effective digital marketing in Virginia lies in choosing the right partner. Here's a guide to help you through the selection process.
Understanding Your Business Needs
The first step to finding the perfect digital marketing agency is understanding your business needs. This involves identifying your marketing goals, your target audience, and the specific digital marketing strategies that align with your business model. Whether it's SEO, content marketing, or social media management, having a clear vision of what you need will help you choose an agency that specializes in those areas.
Evaluating Agency Expertise and Experience
Once you've identified your business needs, look for agencies that have a proven track record in meeting those needs. This goes beyond how long the agency has been in operation. Consider their experience in running successful marketing campaigns in your industry. Request for a portfolio or speak with former customers who work in related industries. This will give you an insight into how well they understand the dynamics of your industry and whether their services are a good fit for your business.
Checking Client Testimonials and Case Studies
To further validate an agency's expertise, delve into their client testimonials and case studies. This will give you a glimpse into their past performance and how they've helped other businesses achieve their marketing goals. Look for agencies with a strong portfolio that highlights successful campaigns in your industry.
Considering the Agency's Pricing Structure
The cost of services is a critical factor to consider when choosing a digital marketing agency. Every business is unique, and so, the right agency should offer a flexible pricing structure that caters to your budget. This could be hourly-based, project-based, or a retainer model. Some digital marketing companies in Virginia even offer open contracts, allowing you to halt the contract without penalty if you're dissatisfied with the results.
Remember, it's essential to find an agency that not only fits your budget but also delivers results. So, ask for a customized quote based on your specific marketing needs. This will ensure you're getting the best value for your investment.
Lastly, consider the agency's corporate culture. Choose an agency that is transparent, accountable, and collaborative. A good cultural fit can make your partnership more fruitful and long-lasting.
Choosing the right digital marketing agency is the first step towards unlocking the secrets of effective digital marketing in Virginia. With the right partner, you can elevate your business and stand out in the competitive digital landscape.
Spotlight on Top Digital Marketing Agencies in Virginia
In the bustling digital market of Virginia, numerous agencies have mastered the art of digital marketing, providing exceptional services to businesses across the state. Let's take a closer look at some of the top digital marketing agencies in Virginia, each offering its own unique blend of expertise and services.
MJI Marketing
MJI Marketing is a Roanoke-based agency, with a commitment to helping businesses grow organically. Starting as a small company, they have evolved into a full-fledged digital marketing agency that offers services from branding to SEO, catering to sectors like architecture and health & wellness.
Talking Monkey Media
Talking Monkey Media is a Richmond-based digital marketing shop that has earned a reputation for its excellence in website design and development. With a vested interest in local businesses, they provide effective digital marketing strategies, focusing on sectors like B2B services and construction.
The Childress Agency, Inc.
Ranked among the top web development companies in the Greater Washington area, The Childress Agency offers stellar digital marketing services. They specialize in branding, SEO, and social media marketing, focusing on B2B services and construction sectors.
Engaged Headhunters
Engaged Headhunters in Virginia Beach is a unique agency that combines marketing and recruiting. They specialize in generating leads and attracting top talent through effective search engine marketing strategies.
Marathon Consulting
Marathon Consulting is an award-winning digital marketing agency based in Virginia Beach. They offer various services such as web design and development, digital marketing, SEO, and PPC, specializing in government and B2B services.
Coherent Logic Limited
Coherent Logic Limited focuses on technical SEO, site reliability engineering, performance engineering, and specializes in websites based on the WordPress CMS. They cater to fintech, healthcare, and hospital sectors.
Primm Advertising
Primm Advertising is a full-service marketing and advertising agency supporting Virginia businesses for over 40 years. Their solutions include digital campaigns (SEM, PPC), video production, SEO, and social media marketing.
Tegrity Marketing
Tegrity Marketing helps businesses get found online through website development, SEO packages, and Google ads management. They cater to the insurance and B2B services sectors.
Power Digital Marketing
Power Digital Marketing is a growth marketing firm helping brands ignite revenue and brand recognition. They offer a wide range of services, including branding and SEO, and cater to food & beverages, health & wellness sectors.
Direct Development
Direct Development empowers businesses through its family of brands. Their mission is to help small businesses beat their larger competitors, offering services like branding, SEO, and serving sectors like education institutions and non-profits.
Node Marketing
Node Marketing takes a data and technology-based approach to every part of a digital marketing strategy. They specialize in SEO and high conversion intent targeting, making them an ideal choice for businesses in the food & beverages and government sectors.
Each of these agencies leverages their expertise and innovative tools to provide unparalleled digital marketing services. However, finding the perfect fit for your business needs can be challenging. Stay tuned as we delve into how epIQ Creative Group can provide a comprehensive solution for your digital marketing needs in Virginia's competitive digital landscape.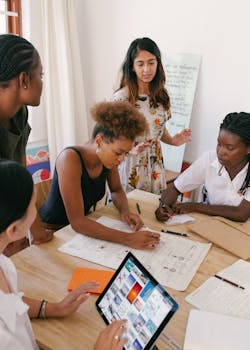 How epIQ Creative Group Can Help Your Business Thrive in Virginia's Digital Landscape
The digital marketing landscape in Virginia is dynamic and competitive. To stand out, you need a partner that understands the intricacies of the market and can devise strategies that resonate with your specific audience. Meet epIQ Creative Group, a partner committed to your success.
Overview of epIQ Creative Group's Services
epIQ Creative Group is a digital marketing agency that specializes in accelerating sales and scaling revenue for businesses. With a decade of experience, they have crafted a suite of services that encompass brand messaging, paid media advertising, inbound marketing, and creative content creation. Their proprietary systems have a proven track record, with clients experiencing 2x to 5x growth within 90 days. They offer month-to-month contracts, a-la-carte services, and their expertise comes at a fraction of the cost of hiring an in-house team.
The Quantum Circle™ Program: A Comprehensive Solution for Your Digital Marketing Needs
Recognizing the need for a streamlined and effective approach to digital marketing, epIQ Creative Group developed the Quantum Circle™ Program. This unique methodology involves three simple steps: sign up, pick the assets, and enjoy the final product. It's designed to streamline the process of creating and deploying marketing materials while ensuring that everything is tailored to your brand's specific needs and goals.
Turning Session Videos into Sneak-Peak Content
Content repurposing is a valuable strategy in digital marketing, and epIQ Creative Group knows this all too well. Leveraging this approach, they have introduced a service called "Clips2Tips," which is all about turning session videos into sneak-peak content. This strategy enhances the visibility of your events and engages your audience by offering enticing snippets of what they can expect.
Giving Events the Social Buzz They Deserve
Social media is a powerful tool in today's digital world, and epIQ Creative Group harnesses its power through their "Live2Social" service. This approach uses social media to amplify the reach of your events and generate a wave of engagement.
By partnering with epIQ Creative Group, you're not just hiring a digital marketing agency, but gaining a partner committed to your success. Their innovative approach, dedication, and transparency guarantee not just growth, but unparalleled success for your business in Virginia's competitive digital landscape.
Conclusion
In the rapidly changing world of digital marketing, it's crucial for businesses in Virginia to stay ahead of the curve. As we've explored in this article, mastering the art of digital marketing is no easy feat. It requires a deep understanding of your audience, a strategic approach to content creation, and the ability to adapt to the ever-evolving digital landscape.
Whether it's SEO, social media marketing, email marketing, content marketing, video marketing, or pay-per-click advertising, each strategy comes with its own set of rules and best practices. However, with the right approach, these tactics can serve as powerful tools to increase your visibility, engage your audience, and drive business growth.
Choosing the right digital marketing agency can make all the difference. An agency like epIQ Creative Group, with its broad range of services and commitment to client success, can help you navigate the complex digital marketing landscape and unlock the secrets to effective digital marketing in Virginia.
Remember, the goal of digital marketing is not just to sell products or services, but to build meaningful connections with your audience. By creating valuable, engaging content and delivering it through the right channels, you can turn potential customers into loyal brand advocates.
As a final note, never underestimate the power of innovative thinking. In the world of digital marketing, it's often the most creative and out-of-the-box ideas that make the biggest impact. So, don't be afraid to take risks, try new strategies, and push the boundaries of what's possible.
In the end, the secrets to effective digital marketing in Virginia are not locked away in a vault, but are there for you to uncover. With courage, creativity, and the right partner by your side, there's no limit to what you can achieve. Here's to your success in the exciting world of digital marketing!